Throwing brings with it messy laughter filled fun, the magical transformation from mud to creation, it's easy to get hooked! We offer flexible learning tailored to you.
If you would like to try the wheel as part of a wider initial pottery learning experience please view our clay experience course.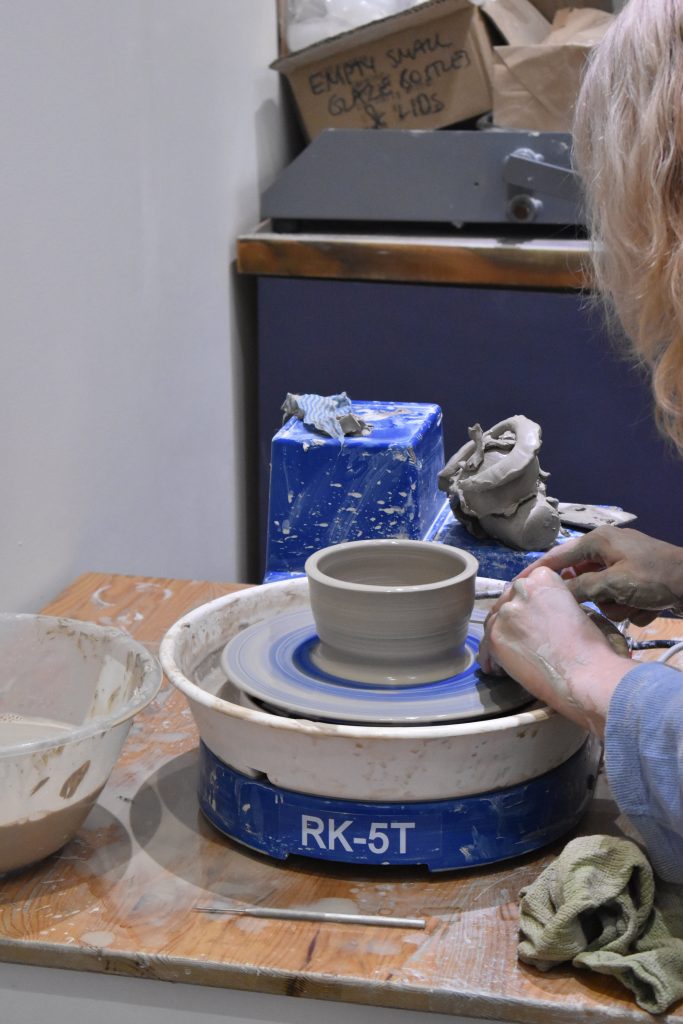 Wheel sessions are available Friday and Saturday 2:30 – 5:30pm as standard. (Out of hours sessions are available where staffing and event timetables allow).
Age 14+ (please see covid advise)
Wheel experience session- 45mins
This session provides a fun filled try, a bucket list tick! it's a great private session for individuals, couples (let's not forget that 'Ghost' connection!) and groups. We start with a 15 minute demonstration by the potter – showing how to throw a pot from start to finish. Then comes the chance to throw your own! The potter is with you every step of the way to support and guide you.
Pots are ready for collection 3 – 5 weeks after your session.
Sessions price £30 per person – this includes clay and bisque firing for one pot.

For bookings of 1- 4 people session length is 45min
For bookings of 5-8 people session length is 1h 30min as we rotate the group across our wheels.
Private Wheel lessons – 2 or 3hr option
Dedicated provision offers a great starting point to learn how to throw, demonstration and support are provided throughout and the session is paced to suit you. These sessions can also provide developmental top up and provide a confident spring board into our Improver sessions.
2 hour session + bisque fire of 2 pots
One person £80
Two people £65 per person
Three or four people £55 per person
3 hour session + bisque fire of 3 pots
One person £120
Two people £75 per person
Three people or four £60 per person
Clay included.
Improver practice sessions
Thursday evenings 3 hr session 6:30 – 9:30pm
Replacing the traditional format of a weekly course, these ongoing group sessions (for a maximum of six people) provide a friendly supportive environment in which to enjoy a pottery journey.
A potter is on hand throughout to provide demonstrations, give tips and support wherever needed to provide flexible learning paced to suit you.
Accessible when our clay experience course or private sessions have been attended, or experience has been gained in another setting, these sessions provide what you need to improve your skills and practice!
When you book, choose the Thursday dates you wish to attend, they do not need to be consecutive.
Session bundles offer savings and Clay and first firing quota's are included.
1 session – £60 per person
3 sessions -£135.00 per person
6 sessions – £210.00per person
Additional needs wheel sessions
Our additional needs pottery wheel provides wheelchair access, arm support and hand or foot operated controls.
This wheel offers physical support to enable access to any of our standard provision, or can be used for a session focussed on sensory play.
We aim to make our services as accessible as possible, so talk to us about your needs.
Sessions for sensory exploration and learning possibilities are booked on 'a pay as you feel basis' we give one to one provision outside of opening hours based on staffing availability to offer quiet space and dedicated attention.
We hope this will way of working will encourage experimentation with the experience.
NB. Glazing sessions and glaze firings are an optional additional visit and cost to all wheel sessions – see our pottery terminology and glazing pages for understanding and glaze sessions for accessibility and availability.